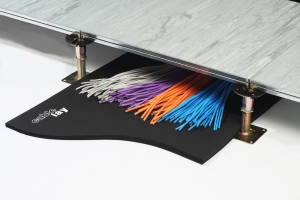 Our industry leading Cablelay data matting is affordable and professional solution to data cable protection suitable in a wide variety of applications.
In this fast passed and highly competitive world your customers expect the highest standards of speed and reliability for their IT and data systems to remain competitive in growing and demanding markets. Damaged data cables are common and the implications are costly not only in terms of time, money and resources, but this doesn't have to be the case.
Cablelay data cable matting has been specifically designed to minimise risk and uphold the life and reliability of modern systems.
The benefits of our data matting are vast both for you and your end customer:
Easy installation with minimal maintenance, resulting in time and cost savings
Flexible applications within cabletray, baskets and under raised floors
CFC and ODP free, so a great environmentally friendly option
Available in various widths, thicknesses and colours to suit customer needs or bespoke applications
Our data matting has a closed cell structure which has 0.9% average and 1.5% max water absorption by volume after 28 days
Manufacture's BS EN ISO 9002 and 14001 approval confirms continuity of quality
Data matting accessories
You can choose from vast range of data cable accessories to ensure the installation of our data cable matting isas hassle free as possible.
Please visit our data cable matting accessories page to learn more. 
Find out more about our data matting
Please view our Cablelay page for full details and a downloadable product brochure.
You may order Cablelay data matting through our trusted stockists.
Please feel free to get in touch with one of the team if you have any questions.